---
Here are some annotated pictures from my Roman Holliday days. To see LOTS more RH pictures -- and for more information on the band generally -- go to Roman Holliday's main site at roman.holliday.net. There is also a Japanese Roman Holliday web site at romanholliday.hoops.ne.jp
Thanks to Andrew and Kumiko who run these sites!
---
CLICK HERE TO SEE PICTURES FROM ROMAN HOLLIDAY'S JULY 13, 2001 REUNION GIG
---
This picture was taken at a gig in California. We were opening for the Stray Cats. I autographed it for a fan. Then it turned up in my mail some months later (the pic., not the fan): whether as a gift or as unwanted and returned -- who knows? Who cares! My Mum loves it! It's the only picture I have of myself looking (almost) like a genuine Rock 'n' Roll Star. Actually, by the time I got the picture I was probably already all washed up and driving a cab (or planning my escape to the USA!)
---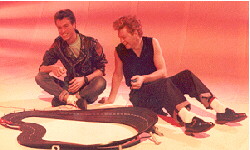 This one comes, I think, from a European TV show. If anyone knows which one, I'd be interested to know. We were promoting "Motormania" -- thus the Scalextric set.
---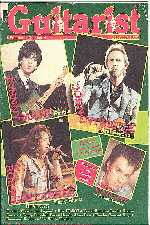 "Among august company." I understand John Entwistle was particularly excited to get on the same page as a member of RH. OK, maybe I meant that the other way around.
---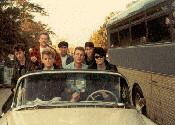 This was taken in Bakersfield, California in November 1983. We were opening up for the Stray Cats and met up with some concert-goers in a cool car.
---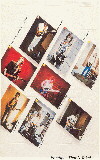 I've been a big Ian Hunter fan since the mid-1970s, when he fronted one of my all-time fave bands -- Mott the Hoople. I met Ian at the 1983-1984 MTV New Year's party and regretted mightily not getting a photo of us together. Obviously, the rock gods felt my pain and put us on the same page on this advert for Tokai guitars.
---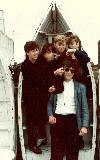 Here's an oldie. This is from 1981. From left to right: Brian, Simon, Steve, Rob (lower). On the far right is pre-Jon Durno bassist, Peter Noone. Back then we playing music that was more "funk" than "swing." Perhaps foreshadowing those infamous dough-boy hats, though, we were already sub-consciously gravitating toward nautical themes!
---
That's all for now. I'll put more up later in the year. Brian.
---
RETURN TO HOME PAGE